Standing Up for Biblical Values

Craig has completed writing his first book entitled Free Indeed: From Prison to Prosperity. Beginning in August the book will be available for purchase on our website and digitally through iTunes, Kindle, and Nook.
Like the sample? Get the full version!
$16.99 Add to cart
$16.99

"If My people, who are called by My name will humble themselves, and pray and seek My face, and turn from their wicked ways, then I will hear from heaven, and will forgive their sin and heal their land."
Looking for ways to give? CNM is a 501C3 non-profit organization that operates by the generosity of others like you. Would you consider a tax-deductible donation to our ministry? Donate online or by mail.
Get to know us more through our blog, email updates, and Craig's very own radio show! Listen online to our podcasts or tune in Sundays at 11am central. You can also sign up below to receive the latest news.
Latest News
posted under: News & Announcements
Craig has completed writing his first book entitled Free Indeed: From Prison to Prosperity.  Beginning in August the book will be available for purchase on our website and digitally through iBooks, Kindle, and Nook. Click here to purchase book
Latest Videos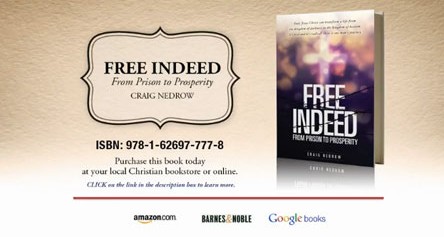 Free Indeed Book Trailer
Wednesday, July 17th, 2013 @ 5:20PM